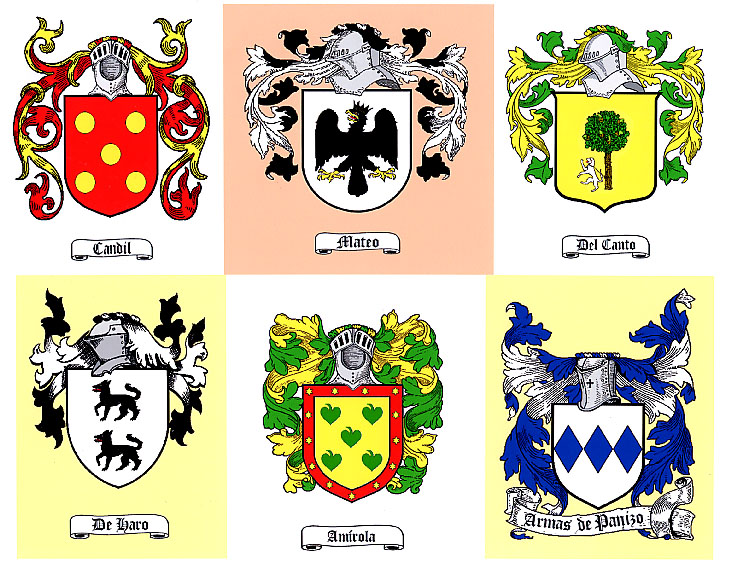 In the upper row, the coat of arms of one each Candil, Mateo, and Del Canto lineages. Some say that the Candil blazon is Biscayan, but the surname, that means "oil lamp", is significant in the provinces of Cadis and Badajoz, and in a village of Ávila. The Mateo (Matthews) coat of arms that we reproduce is Aragonese, maybe from the province of Huesca. And the Del Canto (Cliff) blazon is Asturian and perhaps Cantabrian, or montañés (of the Santander highland; it is likely that the greyhound tied to the tree alluded to the can syllable, which means dog in Spanish).
In the lower row, the coat of arms of each one De Haro, Amírola, and Panizo lineages. The Haro escutcheon that we present are the original arms of the Lords of Biscay, the López de Haro. It is a speaking coat of arms, where the wolfs (lobos in Spanish an lupos in Latin) express the patronymic López (Wolfson). As for the Amírola "family crest" it is Basque, more exactly from the province of Álava (from the Land of Ayala, where is the Amírola hamlet). It is a coat of arms "differenced" from the Murga one. The Panizo blazon seems to be from the province of León, where the surname comes from.
Helmets and mantles are imaginary, but the colors of the latter conform to the tradition: the color of the lambrequin inner side is the one of the field, and the exterior side color is the one that predominates in the main piece.
The music of this page is the Recercada ottava by Diego Ortiz (Toledo, c 1510 - Naples, c 1570)
© 2002-2004 Spanish Surnames. All rights reserved
visitors from May 20, 2004